http://historicalnovelsociety.org/reviews/an-unseemly-wife/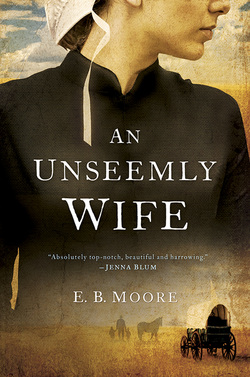 Review from Publisher's WeeklyAn Unseemly Wife
E.B. Moore. New American Library, $15 trade paper (336p) ISBN 978-0-451-46998-4
This lilting, image-filled first novel by poet E.B. Moore, a poet and retired sculptor, shifts seamlessly among time periods, and between narrative and letters. The present is set in 1867, on an immigrant wagon train journey from Pennsylvania toward the wilds of Idaho. The not-so-distant past comprises the seasons before, when Amish wife and mother Ruth Holtz must choose to take that journey with her beloved husband, Aaron, and their four children, despite knowing that according to the community's Ordnung, Plain People stay separate. But Aaron's determination to give the "littles" a chance at wider horizons compels her to make the "unseemly" choice of going with him. Moore's lyrical writing reveals Plain ways and sensitively depicts the Holtz family's determined efforts to find their place among the diverse wagon train trekkers. Soulful letters back home to her brother further illuminate Ruth's slow shifting away from separateness amid births, accidents, illness, healings, and death. When misunderstanding and tragedy threaten Aaron's dreams, Ruth must make dramatic decisions the Plain community would disapprove of. The conclusion of this slowly unfolding novel is both heart-wrenching and satisfying.
Agent: Alice Tasman, Jean V. Naggar Literary Agency. (Oct.)
Review from the Historical Novel Society:
http://historicalnovelsociety.org/reviews/an-unseemly-wife/
From the Iowa Gazette:
http://thegazette.com/subject/life/books/an-unseemly-wife-author-pens-first-novel-at-age-72-20141026
AN UNSEEMLY WIFE
"Top-notch historical fiction...its characters will live with me always."—Jenna Blum, Author of Those Who Save Us
"One of those rare novels of beauty and darkness, transfixing us with a place few can imagine and a narrator as fierce as she is true."—Michelle Hoover, Author of The Quickening
"A harrowing and gripping novel."—Randy Susan Meyers, Bestselling Author of The Murderer's Daughters and The Comfort of Lies
"Moore writes with lyrical beauty...I fell in love with Ruth and her family, was gripped by her fortitude through dark days, and held my breath to the heart-stopping end!"—Juliette Fay, author of Shelter Me and Deep Down True
"A breathtaking epic...A transporting, dramatic and thoughtful read—just the way I like them."— Nichole Bernier, author of The Unfinished Work of Elizabeth D.
"An Unseemly Wife is a disquieting tale of dreams and delusions, community and separation, loyalty and betrayal. Ultimately, Ruth is a survivor among survivors: a woman who, despite the seismic shifts in her world, stands tenaciously at her own center."—Katheryn Leonard Czepiel, author of A Violet Season
---