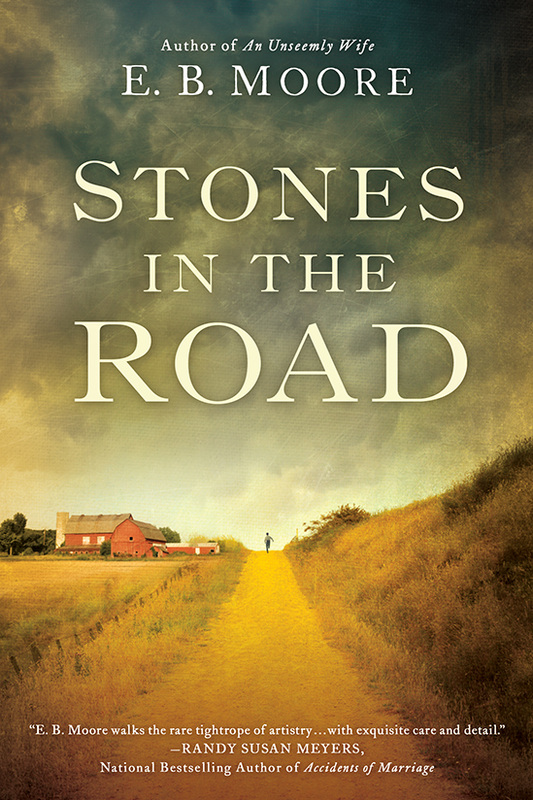 STONES IN THE ROAD
by
E. B. Moore
KIRKUS STARRED REVIEW
In a second Amish-themed novel, Moore (An Unseemly Wife, 2014) spins her grandfather's journey West into the rich tale of a prodigal son.
In 1882, 21-year-old Joshua revisits his Amish homeland for the first time in 10 years. The sight of the inscription on his gravestone—"Beloved Boy, 1872"—plunges him back into memories of the horrific day when he was 11 and fought with his alcoholic father, Abraham, causing a candle to fall over and the barn to catch fire. Joshua went on the run, leaving his mother, Miriam, and four sisters to presume him dead. Joshua's decadelong search for home and identity, which eventually leads him back to New Eden, Pennsylvania, takes him to unexpected places, like a saloon and a prospectors' camp, where his companions include a bar wench and a circus bear. Along the way, he avoids a number of unsuitable romantic dalliances and finds a few surrogate mother figures. Consistent allusions to the Bible and other classical texts lend literary weight to Joshua's journey. For instance, one of his longer stays is at the Baylors' pig farm, reminiscent of the swine in Homer'sOdyssey; Joshua also likens urban Pittsburgh to both Gomorrah and an "inferno, Dante's hell made flesh." Scriptural and folksy vocabulary mix in interesting ways: "He felt the beam in his own eye as he cast about for the codger's mote" and "How low the English had brought him, a fisher of garbage." The novel carefully balances its storylines, with various chapters recording Miriam's daily life as she tends Abraham's severe burns, while descriptions of hearty meals, lambing, and milking chores add authentic period detail. It can be difficult to believe that entire years are passing, a fact Moore has to emphasize by frequently inserting the children's ages. Still, the novel eschews moralizing clichés to tell a powerful story of exile and reintegration. Joshua—"part Lazarus, part prodigal"—proves to be a memorable, multifaceted protagonist.
An appealing Amish twist on a classic narrative.
Porter Square books now has signed copies of STONES IN THE ROAD, they can be ordered at:
http://www.portersquarebooks.com/signed-stones-road-paperback
and AN UNSEEMLY WIFE
http://www.portersquarebooks.com/signed-unseemly-wife-paperback
Audible books can be ordered from:
SUMMARY
An Unseemly Wife

1867, Ruth, a week overdue with her fifth child, struggles aboard a Conestoga wagon bound for the west. Her husband, Aaron, insists.

He ignores the rule of their Amish faith, stay separate, and they leave the farm, setting out on a cross-country trek with their four littles, a few family treasures, and Bathsheba the cow. Aaron has been lured from the Old Order fold by the promise of free land in Idaho, no time to wait for the coming child.

Through Appalachian hollows, Plain Ruth becomes the fancy one with her sturdy possessions and well-fed children: eleven year-old Daniel, responsible before his time; Joseph, nine and wild; Matthew, five, a boy who flaps his arms to the wing-beat of imagined birds; and three year old Esther, determined to help, even at birthing the baby.

Outside Pittsburgh, the family joins a wagon train. Aaron claims safety in numbers if they travel with the dreaded English, but highwaymen and Indians are a lesser threat on the trail as Ruth protects body and soul of her offspring and herself.

Her fellow travelers tempt her with color, music, and friendships she can't resist, these sins appearing less sinful every day. Appearances prove deceptive and her trust is betrayed after a deadly fever takes hold.

Smiles turn to persecution, and east of the Mississippi, the family abandons the trail. By themselves in a lay-by, Ruth barters with God for their survival until hope waning, a tainted hand is offered.




REVIEWS FOR
AN UNSEEMLY WIFE
ON GOODREADS:
May 07, 2014
Kathy
rated it
5 of 5 stars
What a great -- gripping, heartbreaking, uplifting -- story. The novel is set among the "Plain People," the Pennsylvania Dutch. The protagonist is a wife and mother, happy in her community, in love with her husband. Her husband, however, is lured by stories of land -- abundant and fertile - in the west. The reader falls easily into Ruth's world, and makes the long and difficult journey to another life -- and not the one that Ruth's husband imagined. The book isn't out until the fall. I was lucky enough to get an early copy.
(less)
flag
like
·
see review
May 05, 2014
Randy
rated it
5 of 5 stars
I was lucky enough to read this early. The combination of heart stopping & thoughtful & engaging is incredible. Ruth's journey will break your heart. Her courage will make engender hope for always. Loved this book.
flag
like
·
see review
May 05, 2014
Nichole
rated it
5 of 5 stars
I was fortunate to read an early copy of this novel, and the vivid characters, scenery and story has stuck with me since. Thoughtful, dramatic and transporting. Highly recommend.
flag
like
·
see review
May 05, 2014
Juliette
rated it
5 of 5 stars
I read an early version of this book and couldn't put it down. A well-written and fascinating epic journey of an Amish family leaving all they know to venture west.
flag
excerpt from the poetry chapbook
NEW EDEN, A LEGACY
Finishing Line Press

RUTH


My Journal

He bids me mount the wagon Thou

Shalt Obey

Obey even unto the length of my hair

the manner of my dress black

and black and black no buttons

no baubles Keep

the Old Order our kind

separate lest we be shunned And yet

he bids us westward

*

Aaron the west

a fever in his entrails

as if his soul in seven league boots

already walks

the orchards of Boise



Where is his smell of myrrh

of aloes the touch

of his beard the smooth

upper lip Without him

I am but a clacking cowbell

*

This night our bed so empty

a prairie between us

winter-white sheets

the fabric gone to gauze

ah Aaron the morrow

might tear

*